My heart flip flopped like a fish stranded on the sand. What made me think I could read "His Sandals" out loud at the book launch. I had learned in late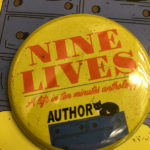 October of 2016 that a piece I had submitted to "Life in 10 Minutes" had been accepted for publication in their anthology entitled "Nine Lives: A life in Ten Minutes Anthology." The launch date had been months away and then all of a sudden it was happening in a few hours.  I clung to the words of Taya Dunn Johnson, producer of the Baltimore "Listen To Your Mother" live show, she told the cast of 2016 to not even look at their piece until the show, we could read it at rehearsal and that was it. She wanted it fresh, unrehearsed, a live reading, not a rehearsed play.
I waited until I picked up my copy of the book with its perfect cover and turned the pages until I found my story. I looked quick, thought to myself that I was a madwoman and closed the book. I realized as we sat and listened to the stories being read that I love live readings, I love stories. I love being told stories. I love the rise and fall of voices, the catches and tears, the throaty gravel that adds texture to words. It was a priceless evening.
Doug captured me reading on video. Took me days to look at it. I got permission to share it. My profound gratitude to Valley Haggard and Sarah Allen-Short, the editors of Nine Lives. And humble thanks to Valley for her kindness and her book, "The Halfway House for Writers" which I turn to again and again for wisdom.
The link to the video of me reading "His Sandals" is below.

https://www.youtube.com/watch?v=O1UjP0re8OU&feature=youtu.be
This is a link to a wonderful short news interview with Valley and Sarah about the book and Life in 10 Minutes, it aired on CBS Virginia This Morning.
http://wtvr.com/2017/06/29/life-in-10-minutes/
Copies of the book are available at Chop Suey Books.
http://www.chopsueybooks.com/products/ninelives
His sandals are under my desk now, hidden from a determined German Shepherd puppy who finds leather delicious. I still slip my feet into them. Justin would be delighted that the cover of the book has a charming black and white cat. Each of us has stories to tell, our stories are what makes us human and real. Stories can create bridges between people and complete strangers become companions, so write your story.
Love, Terri