Sleet was sharply bouncing off the windows as I sat huddled in front of my computer, hands encased in wool gloves. I was sorting through the files of pictures I had taken in September of our trip to the Outer Banks. I couldn't get the vision of the  ethereal pink clouds shaped like great wings out of my memory.
Solemn winter evenings created the perfect space for wistfully looking at our last days at the ocean. Finding the file with the clouds, I smiled as I gazed at those pink wings. Smiled, than my breath caught, I looked away, then looked again. I quickly scanned the other pictures of the wings, and there, nestled under the far wing was a face. I told myself I was crazy and closed the files. I didn't tell Doug.
I would go back and sneak a peek at the picture, yes the face was still there and I knew exactly the face I had seen, the chalk drawing hangs in our living room. One winter evening, I called Doug to come take a look at the photos. "What do you see when you look under the wing?" He looked and was quiet. "Do you see what I see? I asked him. Yes, he too saw a face. I closed the file again. I am a realist, a "cut the crap, give me the bottom line" kinda girl, not one given to seeing faces in clouds.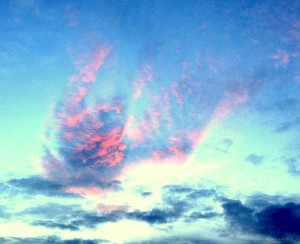 His face haunted me, hung in front of my eyes, called to me. I asked Doug if we could do an overlay of the chalk portrait over the face in the clouds. He walked me through all the steps of photographing the portrait and loading it and the cloud picture into Gimp. Then he stepped me through making the overlay opaque and choosing a point to line up the two photos. The eyes synced, and I cried. They matched, I knew they would. I stared and sobbed, and then I told Doug to take over, I couldn't see the screen. That face, that beloved face.
We invite you to view this "whisper of love." Doug captured that moment in a hauntingly beautiful, very short video. There is also a link to a screencast of the GIMP work of the steps we took to overlay the images.