Baking and Justin are inseparable. I can hear his voice asking me if I wrote down what I did as he would sample a cookie fresh from the oven. And I would promise him to write it down next time. I find his handwriting on older recipes and it chokes me, tears splash on the worn papers. I will try to honor him by writing down what I did and fulfill the requests I have had for my recipes. I love sharing recipes.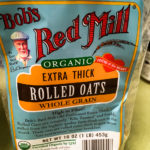 I got caught up in trying to take the perfect photos for my recipes, and provide the engaging Pinterest link, and you know what, I am not doing it. I decided this morning that I will take photos with my iPhone and not bring out the Nikon. I am a full-contact baker, the big camera is not safe with me splashing flour around. So you will see my counters and my stuff, and real pictures of what it looks like to bake and test recipes. I put the cats in the basement, so you will be spared pictures of cat paws helping. It was either relax and bake, or strive for perfection and not share the joy of creating in the kitchen.
First up is my Bacon, Chocolate Chip, Oatmeal Cookie. I started out with a recipe in 2006 from the Quaker Oat site and kept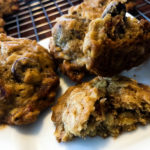 writing notes of my changes on the paper. I realized that if anyone looked at the recipe they would not know where to start, so here it is, a basic template for a great cookie. These are not the pretty face on the cookie tray, but they are most agreeable to being packed for a picnic or tucked in a pocket.
I know you are still waiting on my wedding cake recipe, it is back in development. It worked perfect for layers, but is proving fussy for cupcakes. Still working out the kinks.
Bacon, Chocolate Chip, Oatmeal Cookies
Recipe type:
Cookie, Dessert, Snack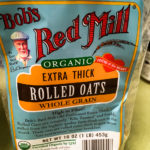 A rich bacon and chocolate chip studded oatmeal cookie.
Ingredients
¾ cup unsalted butter
2 tablespoons rendered bacon fat
1 cup packed brown sugar
½ cup white sugar
2 large eggs room temperature
1 to 2 teaspoons vanilla extract
¼ to ½ teaspoon maple flavor
1½ cups all purpose flour. I use King Arthur Flour
1 teaspoon baking soda
1 heaping teaspoon of cinnamon
couple of shakes of ground allspice
½ teaspoon sea salt. Iodized salt leaves a chemical taste in your baked products
3 cups of old-fashioned oats, not quick or instant. I use a robust oatmeal.
1 cup or so of dark chocolate chips. Feel free to add more, you can add a mix of mini chips with the larger chips.
2 cups chopped cooked crispy bacon. I bake my bacon, comes out lovely.
Instructions
Heat oven to 350. Line baking sheets with parchment paper.
Whisk dry ingredients together, set aside.
Measure oats, chocolate chips, and chopped cooked bacon in separate bowl, set aside.
Cream butter, bacon fat, and sugars until creamy in a large mixing bowl.
Add eggs, vanilla, and maple, beat well.
Add dry ingredients slowly and beat until just combined. You can also do this by hand.
Add oats, chocolate chips, and bacon to cookie dough and mix thoroughly by hand. You will need a sturdy spoon.
Chill dough for 30 minutes.
Preheat your oven to 350 degrees.
I use either a #40 or a #60 cookie scoop, depends on how big you want your cookie.
Scoop dough onto parchment covered pan and bake for 10 minutes at 350. Check the cookies to see how they are baking up. If I make the larger cookie, I sometimes will add a minute or two, the smaller cookie is usually done at 10 minutes. Every oven is different. You know your oven and how you like your cookies.
Let your pan cool on a rack for a few minutes before removing cookies to a rack to cool.
This is a basic template for a great cookie, feel free to have fun with it. Maybe you like a spicier cookie, bump up the cinnamon and add some cloves. Or dried fruit for texture, dried cherries or apricots would go lovely with the bacon. More maple flavor, try it. Want a chewier, richer cookie, add an extra egg yolk. The important thing is to enjoy creating!