I am not a summer person, I am more of a fall through spring sort. The hours of light throw off my schedule, my phone chimes at 8:30 PM to remind me to start winding down for bed. But it is still light outside and seems too early for pajamas! I love the autumn when shadows start to deepen and I can button the house down as night falls. Until October though, I will enjoy the fruits of summer, tomatoes, peaches, more tomatoes, and bees. I miss the bees in the winter. So with a tall glass of iced coffee, lightened with a splash of Bailey's Irish Cream, here is what I have been: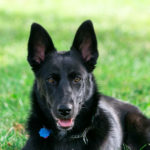 Adopting: We adopted a sweet black German Shepherd mix. Raven is 50% shepherd, 25% Aussie, and 25% too mixed to tell. She is 100% what we needed. Micah has been gone for a year already and we were not going to get another dog. The freedom of being dogless was enticing, and even fun some days. But I was dreadful lonely. Now we have a sunny minx who lives to chase cats, squirrels, and wait by the door for Doug to come home.
Baking: Pies. I thought I didn't like pie, what I didn't like was crust made with hydrogenated fats. I like crust made with butter just fine. I have experimented with Spectrum shortening, a non-hydrogenated fat and am pleased with the results. I am including the links to my favorite crust recipes and to the lemon meringue pie I made. Don't hesitate to try the Swiss meringue, it sounds complicated but is simple to accomplish and so worth the time.
http://www.joyofbaking.com/PiesAndTarts/LemonMeringuePieRecipe.html
I watched the video for the Lemon Meringue, well done and helpful. The only change I made to the lemon meringue pie was that I found Meyer lemons in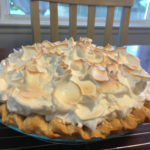 the grocery store, they are so sweet and fragrant, made a lovely pie.
For the crust I use Classic Single Pie Crust on the King Arthur Flour site. My favorite flour, won't use anything else. I blind bake the crust on a baking sheet placed directly on my oven stone on the bottom rack of the my oven. Makes for crisp, golden brown bottom crust.
Training: The puppy. We started obedience classes a week after we adopted her. We train with Ethan Hall of Capitol Canine Services. It had been nine years since we trained with Ethan and I am delighted that we are able to train Raven with him. Highly recommend Ethan. We learn so much every week and it is exciting to watch a dog gain confidence through training.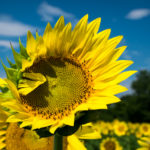 Exploring: We are sticking close to home and creating our own day trip adventures that are dog friendly. The McKee-Beshers sunflower fields were breathtaking. We had a wondrous morning with the pup and our cameras.  We also visited the Kenilworth Park and Aquatic Gardens, it is a magical place and free, and dog friendly. Raven is the perfect age to go on photo shoots and get used to the equipment. When she is a little older, we are going to let her shoot with the GoPro attached to her harness.
Launching: We attended the book launch for "Nine Lives: A Life in Ten Minutes Anthology." You can watch the video of my live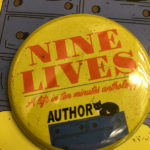 reading here.
Exhibiting: I sold three pieces at The Expanding Heart Gallery exhibit, what a lovely feeling that is – not about the money, I am not breaking even yet. It is all about sharing a moment of peace with someone. A captured second, a flower long gone, but its fleeting mystery still giving pause for reflection, it is a humbling thing to have another soul share in that moment. I have three more pieces that will be in the Le Salon exhibit at The Artist Gallery starting this Saturday evening, August 4th through 27th. We are looking forward to attending the opening and wandering downtown Frederick, MD, we may take the pup.
Featured On: Beyond Your Blog, a marvelous resource website run by the amazing Susan Maccarelli. Susan is one of the most generous people I have ever met and is a wonderful mentor to both new and seasoned writers and bloggers. I took her course "Submission Savvy" and am still reaping the benefits. Susan asked some of her course alumni for how the course had impacted their writing and publication success, the resulting article is full of great advice and tips for getting your writing published and not giving up. The article can be found here.
Watching: We don't have cable. But I did learn how to stream movies off Amazon Prime this month. I found myself exhausted, so I treated myself to a BBC version of "Jane Eyre" that I had not seen, and a movie called "A Little Chaos." It came out in 2014, I only chose it because it featured gardeners and Kate Winslet. I won't spoil it for you, the critics mostly panned it, but I watched it twice. I was absorbed by the themes of child loss and bereavement that were a strong undercurrent in the story. One scene took my breath away. The break of watching some films did me good, reminded me that I need time out.
Remembering: August 16th, 2010 was Justin's last visit home. For me this is the advent season to his death. Late summer sounds of cicadas, the sun starting to fall from the sky a little earlier in the evening, they stir my memories. There is always a sense of lingering unease, like I have forgotten to do something, that if I can just remember what it is my heart will settle.
I hope you get a chance these last weeks of summer to pick flowers, visit an orchard, make a pie, whatever nurtures your soul, that is what I hope for you.
Love, Terri