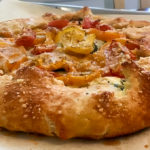 "Dangerously good" is what I penned across the recipe from King Arthur Flour for Savory Zucchini Galette. Cutting it and tasting it for the first time provided absolute delight. I can attest to it being delectable at room temperature, cold, or heated on the pizza stone in the oven. It packs well, the crust did not get soggy, and I was sorry to see the last slice disappear. Here is the link to the recipe:
http://www.kingarthurflour.com/recipes/savory-zucchini-galette-recipe
And here are my notes:
I used all purpose King Arthur Flour
I did not have cheese powder, but I did have King Arthur pizza dough flavor, so I added a couple of spoonfuls of it – wonderful stuff.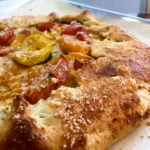 For the pizza seasoning I used McCormick's Italian Herb Grinder, great blend.
I used a cup of ricotta and added some Parmesan cheese to it, plus some pizza dough flavor, plus a few grinds of herbs.
I left out the lemon zest.
Don't skip roasting the veggies, brings out such a wonderful flavor and keeps your galette from getting soggy.
I baked mine on a parchment lined baking sheet that I placed directly on the pizza stone in our oven. We have rectangle stone that I put on the bottom rack, I leave it in the oven all the time. I bake all my pies and crusty things on it, and pizza of course.
This is the perfect portable picnic food, photo shoot food, breakfast on the run food, standing in front of the refrigerator with the door open food. I am making two next time. Butter is like eating sunshine, right? And we all need more sunshine.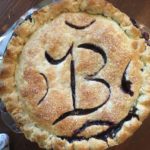 Now on to the Blueberry Pie
This is the pie crust I used, King Arthur Classic Double Crust.  I used Spectrum Shortening, a non-hydrogenated shortening.
The recipe I used as my basic launching off place was this:
https://www.browneyedbaker.com/best-blueberry-pie-recipe/
What I did different:
I didn't add the lemon zest. They weren't organic.
I added the juice of a whole lemon.
I added cinnamon, not sure how much, perhaps a teaspoon or so.
I added vanilla extract, makes for a lovely pie.
The grated apple was a huge success, don't skip, makes a great pie.
I did cook 1/2 the berries until they were jammy. I used frozen berries.
I used four tablespoons of instant tapioca. I wanted to make sure the berries set up nicely.
Let the filling rest for 15 minutes before placing it in the pie crust.
I skipped scattering the butter over the filling. Instead I brushed the bottom crust with melted butter before adding the filling. Helps the bottom crust from getting soggy.
I brushed the top crust with milk and sprinkled with sparkling white sugar.
I do heat the baking sheet on the pizza stone before placing the pie on it. You want that bottom crust to cook and be a beautiful golden brown, not icky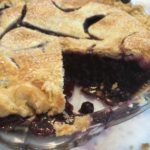 pasty white.
I have a baking note that says this: Needed more time. 400 for 40 minutes. Reduce to 350 for 40 more. Cover after 20 minutes at 350. Filling must be bubbly. You know your oven, so keep an eye on your pie.
Let the pie sit overnight.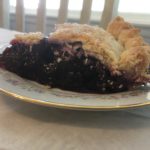 This was the best blueberry pie ever.  I find I love making pies, there is something about taking a gorgeous pie out of the oven and letting is rest overnight that brings me contentment. And brings me motivation to get up with the puppy and walk three miles in the morning if I know a slice of pie is in my future.
I would love to hear about your favorite pies and tricks of the trade!