The last time we had coffee together was November of last year. Six months ago. I haven't written much since then, I have even thought about shutting down the blog. But we can chat about that over coffee. Lots of coffee. So this is what I have been:
Reading:" The Guernsey Literary and Potato Peel Society" by Mary Ann Shaffer and Annie Barrows. The perfect book. I may read it again. I like reading my favorites over and over, there is something restorative about spending time with your favorite heroines. If you have not read Potato Peel Society, treat yourself, it is a delight. Thought provoking too.
Writing: I tap my fingers on the keys a lot. Then I delete. Tap, delete. Tap, delete, tap, delete.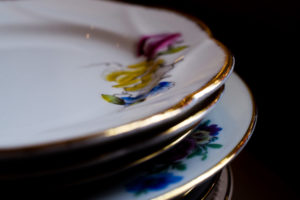 Planning: The rehearsal dinner for our son and his radiant bride. I loved  every moment of curating the vintage china collection for dinner. Potted plants and fresh flowers were in abundance, throw in strings of fairy lights and it was beautiful. Maybe I will write about the rehearsal dinner. It was great fun to transform a space into something magical and inviting.
Celebrating: The wedding. It was perfect.
Fostering: A gorgeous King Shepherd named Maggie. She may be going to her forever home this Friday.
Trolling: Had my first experience with trolls and the blog. I did not respond to them. I blocked them. But it was an icky experience.
Book Launching: I am in a book. A real book with ink, pages, and a very cool cover. We are going to the book launch in Richmond, VA. Here's the link: http://www.lifein10minutes.com/anthology/
Exhibiting: I have a piece featured at the Delaplaine Center for Arts in Frederick and I have an exhibit at the Expanding Heart Center, also in Frederick. Click on the highlighted text and you can visit the sites.
Overthinking: Everything.
Grieving: The best way I can describe it is that I have gone underground with my grief. I have lots of hidden burrows and tunnels. So tired of being graded on my grief, of being told to be effing happy by people who don't know me or haven't talked to me for years. I didn't know the seventh year would feel so raw. But it makes sense in a way. Joy and light make the pain and sorrow all that more sharp. If I am to feel joy, then I cannot shut out the pain. It doesn't work that way. If you are numb, you feel nothing. I excel at partitioning, but partitioning is a temporary state in order to function and accomplish a necessary task. Integration is the next step. It is a guts move to feel joy because the ferocious pain that comes with it is heavy. Joy is light, yet my shoulders still ache. The death of a child is relentless, chronic, and from time to time wins the skirmish. But one thing I have learned is that I am the determined bitchy sort and not easily routed.
That's six months in a nut shell. I would love to hear about whats going with you.
Thanks for sitting with me,
Love, Terri