Yesterday I showed you the spattered and tattered yellow legal sheet that has captured my recipe for vanilla cake. This evening I want to talk ingredients. Sharing the recipe with you won't make much sense unless you know why I use what I use in my cakes. And these are real pictures from my real small kitchen. No professional shots today, just you and me in the kitchen with real lighting and lots of flour.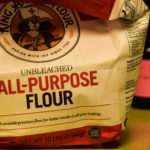 Flour. I use King Arthur Flours in my kitchen. I use all purpose flours in my cakes. I have used all the different cake flours, I have used half cake flour and half all purpose, and I circle back to using all purpose in my cakes. I always have it on hand and I think it makes for a moister cake. Many cake flours are bleached, I don't need bleached flour. I sift. And fluff, and measure carefully. All purpose works just fine.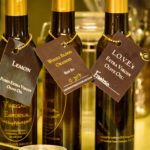 Fats. Real butter. Unsalted. And olive oil. I love coconut oil in cakes, but infused citrus olive oil takes me to the next level in texture and flavor. And the cake stays fresh and moist. Rule of thumb for olive oil, don't be cheap. If you can't lick the olive oil from a spoon and think it is wonderful, don't use it in your cake. It's like wine, don't cook with wine you would not drink. I don't use any vegetable oils in my kitchen.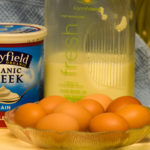 Eggs. Go to the farm, meet the farmer, buy farm eggs. I don't know the chickens by name, but they are the happiest chickens I have ever met.
Dairy. Full fat Greek Yogurt makes for wonderful cake. I don't know how low-fat or regular yogurt will behave, I only get the full fat Greek yogurt. And the milk. I get mine at the same farm I get eggs. Trickling Springs, cream-line, low temp pasteurized, non-homogenized full fat milk. Homogenized milk makes me sick. I can drink the real stuff all day long.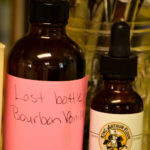 Flavorings: I am going to link you to my blog post on making your own vanilla extract. You start with a big bottle of bourbon or vodka. You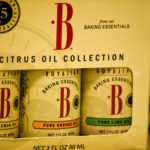 will never go back to store bought vanilla extract again. https://www.backofthenorthwind.com/vanilla-extract-creativity-and-grief/ 
Real vanilla extract and citrus oils are my favorite flavorings. And King Arthur's Fiori-di-sicilia flavoring, I have that on hand all the time too. As you can see I am on my last bottle of bourbon vanilla. No worries though, I have plenty of vanilla brewing in a big bottle of vodka.
Local sourced and whole foods make a difference in the finished baked product. Baking is earthy, and the closer your ingredients are to the earth, the more magic happens. Magic like the interior texture of the cupcake below. Sweet and golden, just a tiny crunch around the edge, tender, fluffy cake on the inside. I have more layers to bake tomorrow and I will continue to take notes and get the recipe in legible form. I'll be back soon.