I did not sleep the night after our meeting to finalize the plans for our Camino. Planning for our pilgrimage since 2013, we deemed 2016 the year to go. Each year of preparation we shed more and more in our packs, each year we found peace in training our bodies to walk every day. We joined forums, read memoirs of other pilgrims, and we dreamed.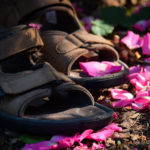 We would walk in memory of Justin, we each would carry one of his sandals, I would take notes and write my memoir when we returned. But as we dreamed and prepared, we grew wary of the crowds on the Camino, we looked at alternative routes through Portugal. We had two weeks and limited funds, the travel arrangements grew complicated and would eat a large portion of our budget.
I gazed at my newly minted passport. I pictured the stamps of Spain in it, I pictured my Compostela hanging next to our pilgrim shells. Shells with a red cruxiform that we were ready to attach to our packs. The unease in my spirit grew, I tucked my passport back to its safe place.
"We completed our Camino last night" I said to my husband the next morning. He did not disagree, but listened as I stumbled my way through articulating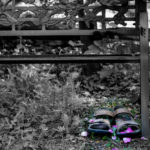 what my heart spoke to me through the night. We are and continue to be on pilgrimage, our journey careened off into a cold pond. We each died that night with Justin. When that young police offered delivered his news that our son was dead, we found ourselves in a foreign land. No clue to the language, our packs laden with weights we had never carried before, and all we could do was walk through the unknown every day.
The dream of the Camino came to us in a dark place and shined a light. We had reason to train our bodies, to learn about backpacks, we would buy components for our pilgrimage on Justin's birthdays as they passed. Ryan, our surviving son, moved back home to take a job offer he could not refuse. We would have someone staying at the house, a serendipitous bonus.
As we sat with maps and schedules that night, I did not feel the energy that comes with anticipation of a quest. It was not the go meeting, but the follow-up assessment of our lived experience of six years. The Camino had served its purpose, we did not have to go to Spain to find our solitude or the spirit of our son.
I told Ryan soon after that we were not going to Spain. I searched for words. "We will still do something, but we want to do something…"
"Fun" our wise son interjected.
Yes. We want to do something fun.  For six years I have slept with strangers in my bed, child loss and grief make for odd bedfellows. I learned a new language, I walked away from everything I loved and thought I believed in, I still walk in strange places. I don't need to prove to anyone that I walked hundreds of miles to get a piece of paper to say that I completed a pilgrimage. I don't need judgement or snark if I can't carry my backpack and need to have it sent ahead. I have already lived with enough judgement and commentary on how I live my grief. That is part of the baggage that I shed, the need to please and conform.
I have not looked back since that meeting in March, no regret that we did not go to Spain this past September. I put our pilgrim shells away. What stays out are our backpacks filled with camera gear, our trail pants, shoes that are scuffed and worn, they have become our good friends.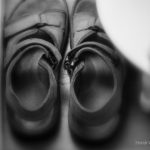 All ground is holy. Every step a pilgrimage, even those steps taken in our own backyard.