Dear Justin,
Thirty-two years ago your dad and I were in the labor and delivery wing of the hospital. Your due date was March 27th and you were prompt in keeping to the schedule. We still had seven hours of labor to go, but we didn't know that, we just knew we could not wait to meet you.
I filled this week to the brim, made sure each day was packed from dawn to midnight. I thought maybe this year I could outrun your birthday, maybe it would be easier, just another day in March. But my heart remembers. It is doing that flutter thing where it beats so hard and adrenaline pumps through my body, my throat aches from tears that need to be shed.
I did the math, then had to do it again counting on my fingers. You died September 2010, this is the seventh birthday without you. It makes my head hurt because I can't figure that out, it does not compute. You would be thirty-two tomorrow. I try to picture in my mind's eye what you would look like and I get nothing, it is like a dense fog rolls in and I can't see.
I have a wisp of a dream from last week. I must have had a moment with both you and your grandmother, the veil between worlds thins at night. I only have muted images, a sense more than a vision. But I woke up feeling whole. For thirty seconds that awful feeling of something not quite right was gone. Then I remembered.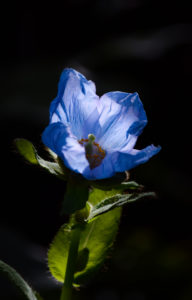 Your dad and I went to Longwood Gardens to catch the blue poppies in bloom. This was a hard growing season for the poppies and many were showing signs of stress, they turn purple when stressed. Their bloom season draws huge crowds and many voiced their disappointment in the poppies lack of large blooms and vigor this year. I saw only their courage. They bloom and have to stay in one place, they cannot move of their own volition to a cooler room. They endure the heat and the crowds. They have a constant stream of visitors gathering in their space. I don't believe they are immune to the disappointment of the onlookers in their appearance. Their little blue heads tip down as if to hide their faces.
Your dad and I sat on a bench with them for a long time. We watched crowds come and go. Their life is so short, they bloom for ten to fourteen days. I look at them and I think of you. Your life was short, I see you in the ethereal blue petals of the poppies. Their petals are delicate and thin and they allow light to shine through them.
My heart has settled down, I remind myself to let those grief waves move through me. Grief whips up into a towering wave in minutes and there is nothing to do but ride through the fury. Then the waves get smaller and smaller. I have learned to hold space for myself, to not sit in judgement of missing you, longing for you, but to nurture my fluttering heart, it remembers beating for two.
Happy Birthday Justin, you are my first and last thought, and every thought in between.
Love, Mom