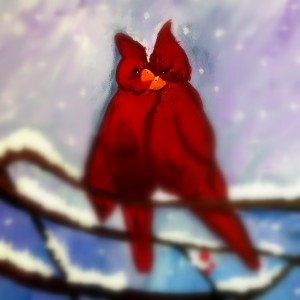 My eye was drawn to her eye, I recognized the deep sorrow and her reluctance to being captured and painted. I looked to her mate, his beak gently resting above her beak and the profound sadness of his eye and the heaviness of his wing, was it broken I wondered? The snow fell around them as they huddled together on a thin branch, alone.
I opened the blinds to the pale winter sun to make sure my eyes were not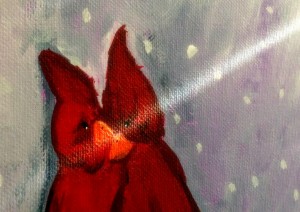 playing tricks on me. And there in the light, the grief of those cardinals painted by my own hand was so palpable it stopped my breath. Tears flooded my eyes blurring the images and I set my painting down to grab tissues and and try to absorb what my hand had so readily shared with the paint.
On a lark I had signed up for a painting party in January, I loved the cheerful snowman with his jaunty top hat and carrot nose making his way into town. Having not really painted before, I went with no expectation except to have fun, and drink wine. Our snowman was supposed to be making his way into town, my snowman ended up in the woods, he took a different path. I loved how free of expectations, my heart conspired to paint its own story. I came away from that first experience filled with peace and smiling. And eager to attend another painting party.
The perfect opportunity presented itself, an evening painting party featuring "Lovebirds," two striking cardinals cuddled together on a snowy branch. We gathered in a small room and guided by the instructor started to create our canvas sized snowstorms with charming cardinals.
I knew from both research and experience that creativity helps open up the frontal lobes of the brain and provides opportunities for the brain to build new pathways and connections, a gentle way to break up what may be lodged in the primitive part of our brain. The death of a child takes those frontal lobes off-line and we live in survival mode, a heightened, adrenaline pumping state of being. Our deep and abiding relationships map our brains, Justin's death required an entirely new mapping of our neural connections. Even with all my reading, I was unprepared for what broke loose and came to the surface through the medium of paint and brush strokes.
What I did not have the language to express, my heart shouted in paint.
Swirling red and brown paint together to create my cardinals on the waiting canvas, I had no conscious thought of what would happen next. I was totally engrossed in the texture of the paint, and the angled fibers of the long-handled brush, finding contentment in boldly creating their dear little faces with what I thought would be sassy beaks and laughing eyes.
Why was I shamed for grieving, why was I shamed for my grief taking so long?
Startled by her eyes as they peered back at me, I flinched in recognition of what I saw in her eyes and body. Shame. Confusion for being shamed. What I did not have the language to express, my heart shouted in paint. Why was I shamed for grieving, why was I shamed for my grief taking so long? Why was I shamed for my lack of faith. I see the hurt in my little bird's eye? My child is dead, my brain fragmented, why does that make me open for ridicule and chastisement?
Grief is an untamed, unimaginably raw and powerful life force…
My feathered self leans into her mate, the unintentional shadowing creating his wing around her, his other wing weighted and heavy. I am struck by the profound beauty of our grief captured and suspended for a moment in time on canvas. Grief is an untamed, unimaginably raw and powerful life force, to taste the death of a child is to hold lightening in your hand. Ravaging and consuming what once was,  its elemental force forges new lives with its searing, burning energy.
My eyes lift to where my painting rests, a place of honor not shame. I am still in awe at the power that art and creativity has to reveal our deepest layers to ourselves. How the act of creating and bringing light and color to our wounded and confused hearts can be empowering and restorative.
Tenderness for those wounded birds overflows my heart, I know they will survive the storm.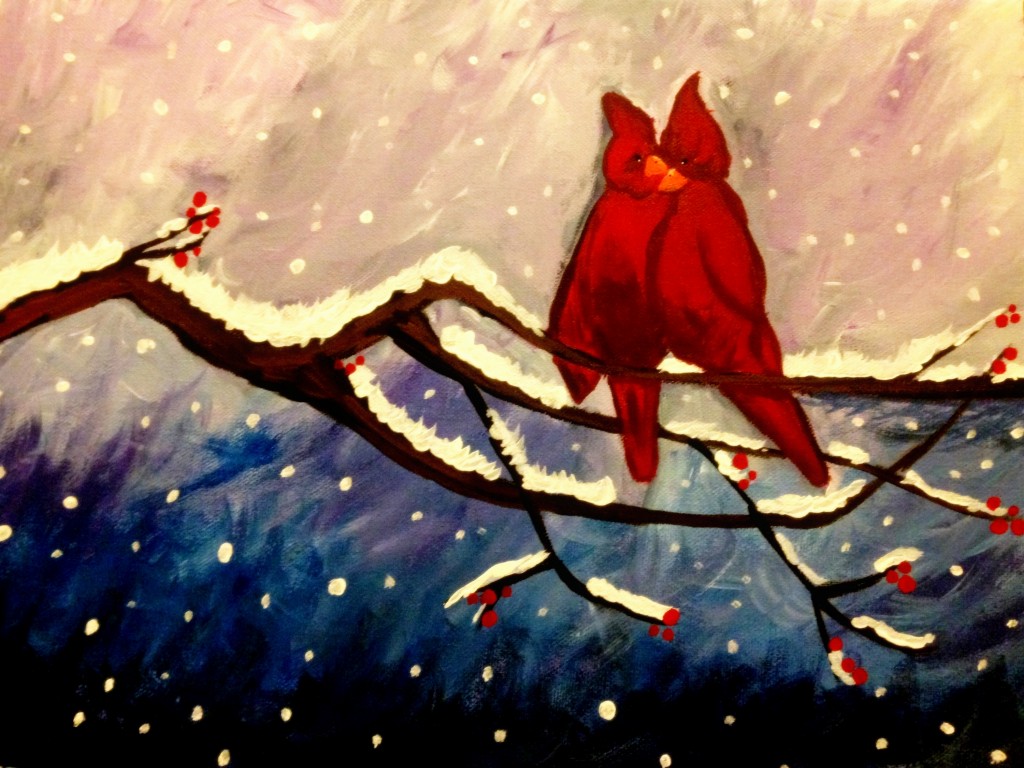 Many thanks to Tina of Petite Picasso – Canvas Celebrations for providing such a warm and nurturing environment to enjoy the magic of painting.