Random, maybe. But the more I thought about it and read through old posts, I realized that I have been putting into practice much of what I have read these past few years. Creativity, especially using both hands, moves memories through our brain, helps us process trauma. Opens up new pathways in our brain, good thoughts and success lead to more good thoughts and success. I wrote more on that here.
Many folks have asked how I make my own vanilla extract, I thought a blog post would be the easiest way to share what has been working for me.
I start with buying good vanilla beans, usually from Amazon. I like Madagascar vanilla beans for extract and buy at least a 1/4 pound at a time.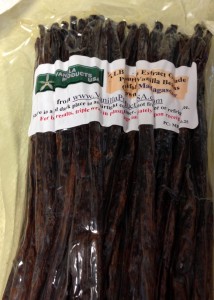 My rule of thumb is 3 to 4 vanilla beans for every cup of vodka. So if you have a 1.75 litre bottle of vodka, about 7.4 cups, that is at least 28 vanilla beans. I cut them in half.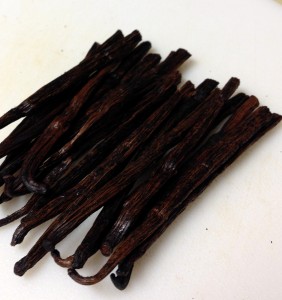 Sometimes I make a long slit in each bean half, sometimes I don't.  I pour off some of the vodka to make room for the vanilla beans. I save the that vodka to use in our airlocks when we brew beer. Some recipes say use cheap vodka, it is just extract. I disagree. I use a mid-shelf vodka, I am going to be baking with my extract, why would I want off flavors from cheap vodka?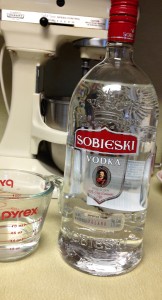 Stuff the 28 vanilla beans that you cut in half into the vodka bottle, top it off with some of the vodka you poured out and put the lid back on. Give it a shake, its fun to watch all the vanilla "caviar" float around. And this is my favorite part, place your nascent vanilla extract in a dark place and forget about it for about four to six months. Give it a shake every now and then, open it up and smell it just for the rush, and then put it back away. The longer the better.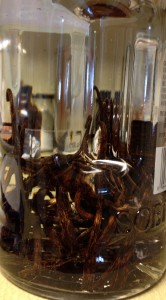 I buy four ounce bottles to share with friends and family, plus the four ounce bottles fit nicely in our cabinet.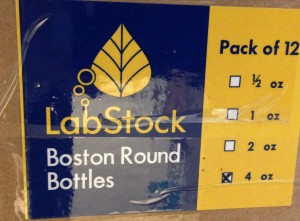 I sometimes strain the extract, sometimes I don't. I like the little specks of vanilla caviar in my baking. When I am ready to bottle I sterilize everything, even though nothing is brave enough to grow in vodka, proper sanitation is always appreciated. I do not add water to my extract, why would I do that? Some do, I don't. I pour the extract, which is now this gorgeous dark brown and smells of all things good, into a large measuring cup, pour from the large measuring cup to a smaller measuring cup to fill each bottle with four ounces of extract. A funnel is a necessity, not a luxury. I add one of the soaked half beans to each bottle. Cap it, wipe it down, and label it.
Be creative with your labeling, it is part of the fun. We have a story about our laughing "Belgian" which you can read here.
I like to keep a container of vanilla sugar marinating on the shelf, vanilla sugar adds another layer of flavor to whatever you are baking. Makes the best vanilla frosting, tastes like vanilla ice cream. I use it in egg custards, cookies, especially biscotti, oh and homemade chai, a little vanilla sugar just sets everything apart from the rest. This batch of extract I had some vanilla beans left over with plenty of caviar left in them. I simply scraped the caviar out into a bucket of sugar and mixed it well, threw the beans in there as well, and it is already smelling heavenly. You can also just cut vanilla beans in half, scrape out the caviar and mix with sugar, does not have to be vodka soaked beans.
I have a bottle of bourbon vanilla extract started, I think the bourbon will add yet another layer of flavor to all my baked goods and custards. You can also use brandy. I wouldn't use Everclear, I haven't read of great results with that product.
My kitchen is my place of peace, it is a place of creativity and healing. At times bittersweet, I miss little boys on step stools going through the spice cabinet and smelling all the different spices. I could let Ryan sit on the counter when he was just a little guy and he could name all the spices.  I came across notes Justin had taken about cookie baking, he had handwritten some of my recipes down in his notebooks. Taken notes on how to properly fluff flour and measure. I cry a lot in my kitchen, and that is a good thing, tears are healing. My hands and body move, memories move, new things learned, the ache is always there, but it gives birth to beauty. Scents and textures connect me to the present moment, they open up new pathways of experiencing life in small ways. They become the path of my grief journey.