Easter is as difficult as Christmas to experience since Justin's death. I loved everything about Easter, from the beginning of Lent to the wonderful indulgence of leftover ham from Easter dinner. We would dye dozens of Easter eggs, and then play with the colors in the sink as we were cleaning up, so much color and life.
Perhaps it may seem counter intuitive to feel Justin's loss so keenly at Easter. I know it was a source of  my greatest hurt and confusion, being told not to feel my grief because of the resurrection of Christ. I could not bring into reconciliation my grief and my Christianity. I had been basically told the two could not live together, that if I could just muster up some faith, surely I would feel joyful. So I basically checked out of the church. I was welcome, but only if I could confine my grief to the prescribed parameters of Christianity.
My son's tomb is still occupied, his body lies entombed in a little bit of ground that we used to walk and tread silently when we made our visits to remember other family members. I remember the little boys in the grotto, the grounds of the church being as familiar as our own backyard. I remember the scents of the Liturgy and the weight of my children in my arms. A part of me is always watch keeping at Justin's grave, my heart, my flesh lies there also. The bond of mother and child transcends all definition and earthly understanding. It is a bond that should be honored and acknowledged in life and in death. Beware invalidating a mother's grief by quickly quoting scripture at her, you will get a polite half-smile and glazed eyes.
I have a thought this Good Friday as I meditate on Christ's Passion, beyond the physicality of the cross, Christ suffered emotional and mental torture, he was abandoned, isolated, mocked, so utterly alone. People around him,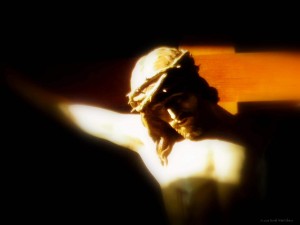 but alone. I feel as I am putting to death the last remnants of what remained of my spirituality and beliefs that I had before Justin's death. I question all of them now, examine them all for validity, for application to real life, messy life, a life where children die. If I allow them to be nailed with Christ, then I can have complete confidence that they will die with him, be entombed with him, and rise with him. I can have complete confidence that they will ascend with him to Father God and can expectantly wait for a new spirit to descend on me that it sculpted uniquely for the life I am to live. Is that not resurrection? We live this reality in our lives, a constant dying, a journey to new life. And it does not happen in three days, three months, three years, we work out our own path of discipleship according to his call. For some Good Friday lasts a lifetime.
I am a new creature, the slow emergence from the tomb reveals a new life. The surprise should not be that there is new life —  no, the surprise is that the new life is not seen or acknowledged as a lived experience of the indwelling spirit. I listened to a gentle German monk yesterday, and he said that we do not have to be grateful for violence or bereavement. We can be grateful for the opportunity of the moment, to see what opportunity is in that moment. He captured my heart completely. I chose to be grateful for the opportunity of small moments where I can crawl in a cold tomb with someone and be unafraid. I can't take away their pain, there are no words, but I am not afraid of the dark. And dare I say it, there can be found both joy and peace in those moments. Christ said not as the world gives, but as I give. Peace and joy cannot be measured by worldly standards or preconceived images of peace and joy. We re-write definitions of joy and peace.
I honor those who have been called to suffer the chill of the tomb in their lives. They are a true witness to life. Their lives bear the visible scars, and when they smile or offer a kindness, your heart it touched beyond measure. Their gift comes from a precious place of suffering, not from an abundance of good fortune.
I am including a link to the gentle monk, I probably would not have appreciated him two years ago, or even last year – I don't even remember 2014, but this year his words made sense. I printed out a transcript of his talk, I wanted to be able to highlight those words that jumped out at me. To write them in my affirmation journal.
Brother David's words "think again" brought me hope. I have my Easter message to hold on to, our Easter will not resemble Easter's past, they are memories, we must grasp the opportunity of the moment.
Wishing all moments of gentle opportunity,
Love, Terri