A place of thistles, small purple heads nodding in the Minnesota wind. A sky so blue and wide, it seems to go on forever. Milkweed growing wild, a natural butterfly garden. Cattails growing so dense you cannot reach the water's edge. Wind making waves of the wild wheat and grasses. Many ponds and rivers crisscrossing the landscape on either side of the interstate. We had reached Luverne, MN, the place where Justin died.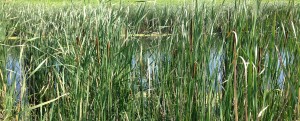 Doug drove us a few miles outside of town so that we could retrace his steps. We came down the highway the same direction Justin would have been heading and parked the car, and my heart knew, a keening cry came from the very bottom of my soul. We had to cross an exit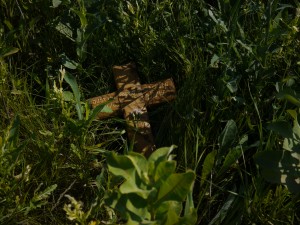 ramp and then walk down a hill to the body of water, the wild grasses and thistles pulling at our jeans. Doug had stopped to retrieve something from the trunk of the rental car, I don't know how he managed to surprise me, but he had packed a beautiful cross in his luggage for a roadside memorial. The cross that Doug had made during his journey through RCIA and had laid in front of the altar the night of Easter vigil long years ago.  How hard to watch a father walk with a cross to mark his son's passing, my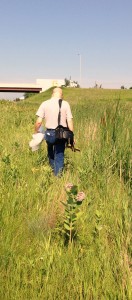 heart took a picture, the blue of the sky and smell of summer in the air. We had to watch where we walked as the ground was marshy and wild, an area undisturbed. We got as close to the edge of the water as we could and Doug rested the cross down in grasses and cattails. I had not imagined the body of water so large. We could only see the water through the cattails and I understand why Justin's vehicle would have gone unnoticed except seen from certain angle.
We were blessedly alone, just the wind for company, and flowers. Wild purple thistles, pink milkweed, wild daisies, and hundreds of cattails. I had thought that maybe the accident would replay in my head, that God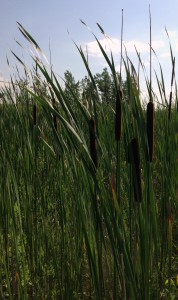 would let me see it, to see how the car flipped and landed upside down in that pond, I thought perhaps I would hear the tires screech, hear the roof hit, but I didn't. And kneeling there, peering through the cattails I felt all desire to know the details drain away. In the stillness I heard birds, the hum of insects, and the wind, the glorious wind that made the flower dance. I could not have created a more beautiful memorial garden. There was no sense of a spirit at unrest, I know his ghost does not haunt that pond, there was no distress in the wind. That pond and ground have been forever hallowed by his passing, his sweet spirit kissed that place and left some of his gentleness behind. Holy ground, we walked holy ground, sacred ground.

We stayed as long as we could, it was hard to leave. I laid purple thistles on his cross. I wished I had remembered to take a few to keep as a remembrance.  The thistle is an ancient Celtic symbol of nobility of character, it also represents survival, as it will flourish where others cannot. So hard to turn our backs and walk back to the car, I remember how warm the sun was, how I let my fingers touch the different plants as we walked back, how peaceful that hallowed spot was, virtually hidden from all eyes.
Grief turned up like fresh earth in the garden, soaked by tears. We have stood at Cardonnacum, a place with thistles, and I can hear our gentle son tell us, you are survivors, mom and dad, just like the thistle.